Passion Conference Raises Almost $450,000 for the Deaf Community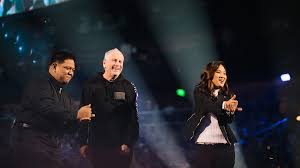 There are 466 million people in the world who are deaf or hearing-impaired. There are over 400 different variations of sign language throughout the deaf community.
Of all these different variations, the New Testament of the Bible has only been translated into American Sign Language (ASL). Often, those in the deaf community struggle to read or don't know how to read at all because learning to read English as a deaf person is almost the same as learning to read English as an ESL student.
This year, 40,000 people gathered in Dallas, Atlanta, and Washington D.C. for Passion, a conference for 18-25 year olds that focuses on the teachings of the Bible. The issue of the deaf community having no access to the Gospel was something that Passion wanted to address, so they launched a new campaign through the Deaf Bible Society called "Hope in Every Language".
The goal of this campaign was to follow in the example that Jesus set in the Bible by giving to those who don't have as much. The target was $280,000, enough to distribute Bibles in sign language to 10 different countries. Across the three states, college students and high school Seniors answered the call to action and put up $448,000. That is enough to distribute sign language Bibles across 16 countries.
One student who attended the conference said, "I had never even realized there was such a need in the deaf community. I had always assumed that the Bible was just as present in sign language as it is in English. It was incredible to see God once again come through in such a big way."
The Christian Church has a history of being an extremely charitable organization, and it came through once again to follow in Christ's example.