Stranger in the Apls: A Mystic, Heart Wrenching Album Leaving You Vulnerable and Nostalgic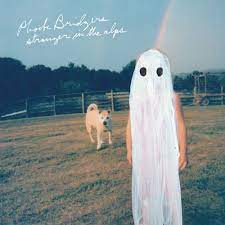 "But when I'm sick and tired / and when my mind is barley / there / when a machine keeps me / alive / and I'm losing all my hair / I hope you kiss my rotten head / and pull the plug / know that I've burned every / playlist / and I've given you all my love" – Killer by Phoebe Bridgers.
Phoebe Bridgers solo debut album, Stranger in the Apls, came out September 22, 2017. ( 1 day until it's 5th birthday at the time writting) Phoebe was a part of the alternative rock band "Sloppy Jane" before breaking out as a solo artist in 2017. Stranger in the Alps consist of 10 songs that sounds beautiful and heart wrenching to listen to every single time.
A recurring theme in this album faces the idea of loneliness and toxicity. Bridgers does an amazing job at capturing these feelings of guilt, neediness, vulnerability, and loneliness through both music and lyricism.
The opening song, Smoke Signals, is a complex song filled with detailed writing about an anonymous body seeking for Phoebe's attention and validation. It's widely speculated if this is about a stalker or her younger self. This song is a meticulous and crafty opener because it introduces us to her style of writing and her intense metaphors. Motion sickness and Killer are about the constant exhaustion and fight that comes with emotional abuse. Funeral is a favorite of mine. Funeral tells the story of Phoebe being able to sing at a funeral for a child no older than her. The song goes through her experiences with depression and her feelings and how those feelings alter and deepen with the realization that somebody has lost their child, as said in the lyric "when i remembered someone's kid is dead". The usage of the word "dead" instead of 'passed' or 'gone' is that it doesn't have the same direct and abrupt connotation as the word "dead" does. Funeral opens up about how depression can manipulate you into thinking your feelings are not valid and 'rationalizing' how so many other people have it worse. The song, Demi Moore centers around feeling lonely and vulnerable after intimate experiences. The songs Scott Street, Georgia, and Would You Rather are similar in that they talk about childhood and how as you grow up, you experience a depressing sense of nostalgia. Chelsea, on the other hand, has a slightly different view. Instead of a more personal and deep song about her own experiences and feelings, Chelsea, with its cryptic lyricism and haunting music, is about trying to get inside and understand the mind of a murderer with no vail. The ninth song, You Missed my Heart, is a cover of Mark Kozelek's 2013 song, and the tenth song, Smoke Signal Reprise, is just a continuation of the story of the first song.
Overall I would rate it a 4/5 stars. I could do without the last two songs, but the remaining eight are golden and do not need to be changed whatsoever. Are they sad songs? Yes, but they aren't so loud that you feel that you can't escape it. You have to really listen to her to understand just how heartbreaking they are.