Coffee Shop brings rush of excitement
Chris King, Staff Writer
September 10, 2018
Hang on for a minute...we're trying to find some more stories you might like.
The new Coffee Shop at Waxahachie  High School opened Tuesday of last week, and everyone went insane. WHS has never had a coffee shop, so it's nice to see one finally open up in the halls. But with every gift comes several problems.
The first problem regarding the shop is the never-ending lines. Don't bother trying to get your morning cup of coffee when you get to school in the morning, because you most likely will be late to class trying to get a small 8 oz cup of caffeine.
Secondly, the hours of the shop is a huge problem. They are open in the morning before classes, and during lunch. With lines going out the door, there's no way everyone can get a chance to get inside. They need to be open through the whole school day, in addition to an hour or two after school for the students staying for tutoring.
Now, let's talk about the Pros of this WHS Coffee Shop. The main reason everyone is drawn to it, is how convenient it is. You don't have to risk your life getting in the Waxahachie morning traffic to get to Starbucks in the morning, but instead you can just be an hour early to school and be one of the first in line for the shop.  Another beneficial thing about it is the price. An 8 oz cup might be a deal breaker, but for $1.25 a cup it also might be worth it.
In conclusion, the WHS Coffee Shop is a good addition to the school, but I'd rather take my time in the morning and make my own coffee at home rather than waiting in a line and risk almost being late to class for a puny 8 0z cup.
About the Writer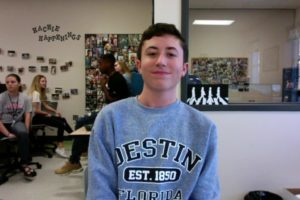 Chris King, Staff Writer
Hey, I'm Chris King. I'm a junior at Waxahachie High School and am a part of the media staff. I enjoy learning new things, working hard, and spending...