Indians get first win of the season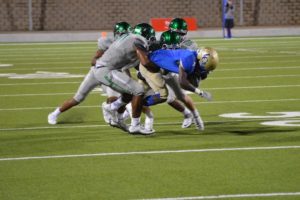 Friday night lights are back for the Indians, as they brought home the first win against Lakeview Centennial High School 46-34.
Waxahachie showed off their explosive offense led by Senior Kenedy Snell who finished with three rushing touchdowns and 92 all-purpose yards. Senior Jalen Reagor added seven catches, two touchdowns and 145 yards receiving and Senior Eris Miles finished with a touchdown on 21 carries and 178 yards rushing.
An 88-yard pick 6 by Senior Antwyan Redic with Lakeview threatening in the red zone, and a tremendous goalline stand by the defense widened the scoring margin between the two teams helping Waxahachie push ahead.
Senior cornerback Trey Jackson said, "We were able to hold them in the fourth quarter and help our team get the win."
A 90-minute lighting delay did not stop the long lines of fans expecting to see what Waxahachie had in store for the night, and they did not disappoint.
The Indians play Highland Park at home Friday night. This is a non-district game, but one that Waxahachie looks to win.