The fastest production muscle car ever !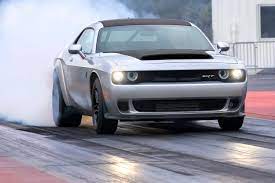 Orders for The new Dodge Demon 170 started March 27th. The vehicle must be ordered through a dealer.
In my opinion, I think the Dodge Demon 170 is the best car Dodge has come out with to date.
The Demon 170 is good because it is the fastest production muscle car ever and looks the most aggressive out of all their cars
While there are a lot of good things about the new demon, there are two things I don't like. First being the hefty price tag with MSRP being $96,666. The other thing that sucks is there are only 3,300 made, 3000 for the US and 300 for Canada.
I think if you have the money to buy the Dodge Demon 170 its definitely a great purchase that is guaranteed to put a smile on your face.