Parking Lot Madness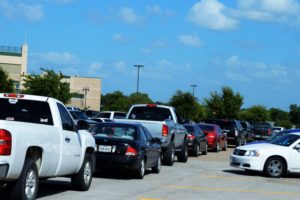 Only one of the student parking lot entrances is open this year, causing traffic, confusion, and angry students.
"It's awful having to wait in a line at least 10 minutes everyday just to get out of the parking lot," Junior Rylie Morton said.
Everyday after school, students who parked in the high school parking lot or by the Multipurpose Building (M.P.) have to wait to leave from the eastern facing exit, where a single traffic guard is directing cars coming from four directions.
"There's no sense of organization in the parking lot when there's hundreds of kids trying to get out of one exit," Senior Hayley Styles said.
In previous years, there were barriers in the parking lot which provided direction and separation from the M.P. parking lot, but now it is completely open, allowing a very long line to form.
"It's really confusing when you get to the M.P. because the directions in the lanes are opposite, so you kind of just have to guess which one to go down and hope there's no one coming," Senior Tilmon Splawn said.
This summer it was decided that the barriers would be taken out, and there would only be one exit to help the direction of traffic.
"Having only one exit open assures that all the leaving cars go mostly towards Brown Street, instead of of diverting in many directions," Security Officer Noland said.
Still, the limited exit causes stacked up traffic on both sides of Indian Drive to both traffic lights.
"Even though it's crazy, the thing is, if we opened more than one entrance, the traffic would be even worse than it is now," Security Officer Barron said.
The closed entrances are a problem in the morning too, making students late because of slow moving traffic on Indian Drive.
"One morning I assumed that the middle entrance would be open, but when it wasn't, I had to turn into the loop around the FAC, turn left to go back, and then wait at least 10 more minutes to turn into the last exit and then park," Junior Andrew Silva said.
According to Officer Noland, there is no plan to change the current situation for the year unless a certain instance makes opening more exits necessary.
"Having only one exit open assures us that pedestrians, buses, and cars are all going in a mannerly, and organized way," said Noland, "Safety is our number one priority."