A Head Full of Dreams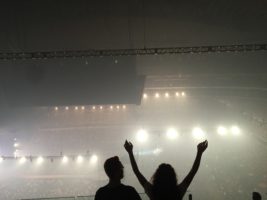 When "A Head Full of Dreams" started blasting through the speakers and Chris Martin sprinted on stage, I didn't even mind that we were 567 feet above the stage and the band members mere ants in our field of vision. On August 27, I finally got to mark something off my bucket list: seeing Coldplay live.
The months I spent waiting for this concert were not wasted. Adding to the talent and showmanship Coldplay brought to Dallas was the massive size of AT&T Stadium. Song after song filled every possible space of the stadium, accompanied by lights of every color and smoke for theatrical purposes. As I sat in my seat rather impatiently waiting for their grand entrance, a wide variety of fans made their way to their seat. There were very young children and couples that appeared to be very much in love to pregnant women and older folks. It was beautiful to see the endless range of people who were as passionate about the same band as me.
This concert was arguably the best concert I have been to so far. The crowd was on their feet the entire time, cheering for every song they performed. The only thing that could have made the experience a bit more pleasant would be air conditioning. With thousands of people squeezed into one very large room, the heat was too much for my taste. However, the fact that I was seeing Coldplay live tore my mind away from the heat for the entirety of the concert. If anyone has their reservations about going to a Coldplay concert, go for it! Next time they come to Dallas or anywhere near here, get those tickets. I guarantee you won't regret it.