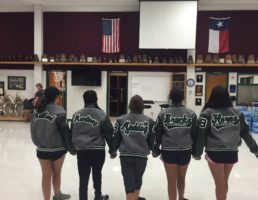 For varsity athletes and musicians, receiving a letterman jacket is one of the most exciting times in high school. The jackets are a symbol of the hard work, dedication, and time students put into their respective extracurricular activities.
Recently, the cheerleaders, color guard, and band handed out jackets to those who earned them. Excitement is an understatement for the students who received a jacket. Although the weather still reaches ninety degrees outside, I see fellow students walk through the school halls with their jackets on, beaming with school pride.
The cheerleaders who made the varsity squad received their jackets. Sophomore cheerleader Emmeline Bearden is very proud of her jacket. "I was so excited to receive my letterman!" said Bearden. "It was just a great feeling to have something that symbolized all the hard work I did last year and hopefully all the memories to come!"
The color guard receives jackets based on a point system based on achievements throughout the program. Junior Stephanie Martinez, who is in her third year of color guard, is very excited to have her jacket. "I feel great because it was something I looked forward to since freshman year," she said.
Similar to the color guard, the band receives their letterman jackets based on a point system. Junior Laura Sanchez is very proud to have received her letterman. "I feel accomplished and I'm very glad to have earned my letterman," Sanchez said. "I feel like I worked very hard towards earning my jacket."
All the students admitted to wearing their jacket even in the August heat. These jackets display the students' pride in their accomplishments and their school.