Atwoods Opens in Waxahachie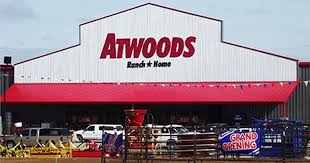 Waxahachie has a new business in town. Atwoods, a really big ranch and home goods store, is located at 2825 Aspen Way. The store has western clothes and shoes, tools, lawn and garden equipment, outdoor furniture and more.
Last week my friend and I drove by the store and noticed that they were selling baby chickens and ducks. Ducks are my favorite animals so we went inside. They had a big area of a bunch of chickens, ducks and some geese. There was a worker that was watching over the animals and made sure they were doing okay. The costumers can pick up and hold the animals if they want. I held a duck and it was super sweet. All the animals were under ten dollars.
After we looked at the animals, we walked around the store for a little bit. The store was really big and had lots of sales going on. It was also very crowded because it was the grand opening.  The store was giving out popcorn but I didn't get any.
Junior Alia Fontenot attended the grand opening of Atwoods as well. She said, "My favorite part about Atwoods was the baby ducks that you can pick up and hold," Fontenot said. "My baby brother loved it a lot and wants to come back to see them again."
Atwoods is a good edition to waxahachie and I am very glad we got one so that every spring I can hold baby ducks, and my dad likes the store a lot because of all the stuff it has.