New live action Mulan review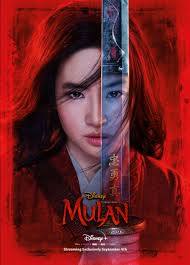 There is a lot of conflict about the new live-action movie, Mulan. The leading actress who plays Mulan posted about her feelings towards the actions that the Hong Kong police took against protestors who were fighting against the extradition bill, and most people do not think Disney took full advantage of the opportunity they had with this movie. 
A lot of people took offense when Liu Yifei (leading actress Mulan) posted a comment that she is in support of the actions that the Hong Kong police took against protestors at the 2019-2020 protests. The cause of the protests was the extradition bill, the bill itself would allow Hong Kong to detain and transfer people that are wanted around the world. "Critics contend that the law would allow virtually anyone in the city to be picked up and detained in mainland China, a country in which judges must follow the orders of the Communist Party. They fear the new law would target not just criminals but political activists as well." as the New York Times explains. 
200 million was spent producing the movie Mulan, with a rating of 75% Rotten Tomatoes. Paul Byrnes says  "Apart from the lack of singing, romance, comedy, and a mouthy dragon, this is just like the original. You might wonder what's left. Well, $200 million buys a lot of scenery and sets and quite a few stars. This new version has a spectacle in mind." However, some disagree, like Joe Morgenstern who says, "It's an efficient retelling of a tale about a young Chinese woman discovering her power-affecting at times, occasionally quite lovely, but earnest, often clumsy, and notably short on joy."
Personally, I believe that there were some missed opportunities with the movie. I wish they had not taken out characters like Mushu and love interest, Chen Honghui. The way they depicted the culture was beautiful, however, I would have appreciated there being a more obvious struggle in her efforts to blend in among the men, as was in the cartoon. On the other hand, I liked that they turned Hayabusa, the Falcon, into Xian Lang, a character who ended up helping Mulan in her pursuits. While there are some things that I like more about the live-action, I would personally have to say that I favor the cartoon. 
There are lots of things that go into a movie like this, you can watch the new live-action Mulan on Disney+ for no added charge on December 4th. If you can not wait until then, the movie is available on Disney+ premium.