Nicki Minaj announces birth of first child
On Wednesday, September 10, 2020, the super bass game-changing rapper Nicki Minaj gave birth to her first in Los Angeles child with her husband Kenneth Petty.
Nicki Minaj has always had the intuition to become a mother in a 2012 interview with Complex. She stated, "In 2022, I'll definitely be married, and I'll definitely have my two children," she predicted. "OK, I might have three." Then in another 2012 complex interview, she said, "I was put here to be a mother." The rapper has also mentioned on multiple occasions that she would love to be a mother and raise a child in the future but not until she gets married. On September 5, 2019, Nicki tweeted, "I've decided to retire & have my family. I know you guys are happy now. To my fans, keep reppin me, do it to the death of me, x in the box- cuz ain't nobody checkin me. Love you for LIFE." Then on October 22, 2019, Nicki finally tied the knot with her former boyfriend of a year, Kenneth petty.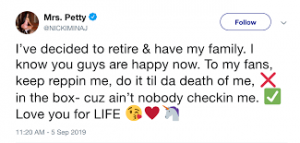 Nicki has also mentioned in songs about wanting to start a family and get married. "Ain't pushin' out his babies 'till he buy da rock," she said through her lyrics in the song Chun-Li.
In her feature Zanies and Fools with Chance the rapper, Nicki said, "'Bout to walk down the aisle and be a mommy."
The super bass rapper has numerous videos and interviews of her playing and talking with kids and babies all of her fans and many around her can tell that she was so excited and ready to be a mother. 
On Instagram in July, the notorious rapper posted a picture of her dressed in a two-piece bathing suit-like outfit decorated with flowers, rhinestones, and two baby bottle tops on each side, with pink high heels showing off her belly bump, which looked like she was already far along. She captioned the photo "#preggers" and posted many more gorgeous maternity shots.

Supporters were shocked at this unexpected post since she had just released a music video with rapper 6ix9ine looking very un-pregnant. Nonetheless, supporters were filled with nothing other than happiness and excitement for the rapper. Some were questioning and bashing her about her husband however supporters and many more were filled with content for the rapper and showered her future family with love. 
We have yet to know the name or gender of Nicki and her husband Kenneth's first child, however Nicki has stated, "I really need a boy in my life. A baby boy. Because… I'm so attached to my little brother, and I felt like that was my real son."
"And boys, they're just so, I don't know… My heart just melts when I see them," she says in a 2012 interview with complex. All we know now is that Nicki is going to be a perfect mother showering her child with love, attention, and generous care. She has always been ready to have this moment for life! We hope the best for her journey as a mother.