POSE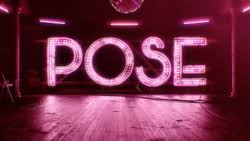 POSE is a Netflix original show that is set in the 1990s. It portrays how people in New York treated individuals with a little bit of a different life style than them. According to Netflix, it is an "American drama television series about New York City's African-American and Latino LGBTQ and gender-nonconforming ballroom culture scene in the 1980s and, in the second season, early 1990s."
In the show, it displays the ballroom culture, the "downtown social and literary scene." Our main character, Blanca, is a trans woman who was kicked out of her own home and made her way to New York to find others with whom she can fit in with. Blanca forms a 'house' for LGBTQ+ youths who have been rejected from their own homes. She takes in multiple youth and helps them get back on their feet with a better life than living on the street. Blanca gets her 'kids' altogether and competes in the balls in New York.
The family comes across with multiple setbacks like problems with other people and how they feel about LGBTQ people, HIV/AIDs, etc. Some of the characters come across decisions like moving for their job or accepting someone back in their life.
The Netflix original is going to come back for season three sometime soon, the date is unknown due to COVID currently. The first two seasons are on Netflix at the moment while waiting for the third season to come out.
The characters all have unique differences that make them pop in their own way. They each keep the show alive in an interesting way, and unlike other shows, it does not always just end in the death of loved characters.