Avengers Infinity War is here!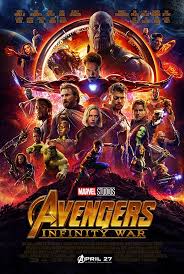 Garrett Roux, Staff Writer
May 3, 2018
Finally, Marvel fans cry out in excitement as the day we have been waiting for since 2012 is finally here. It's time for our favorite comic book heroes to battle against the evil Thanos in his quest to find the infinity stones. Marvel has come a long way from their 2008 film "Iron Man". Now, their cinematic universe will be entering it's climax with all 23 Avengers battling their fiercest foe yet in a battle that has been hinted at since the first Avengers movie in 2012.  Marvel has confirmed, however, that some fan favorite heroes may meet their end in the movie, so try to emotionally prepare yourselves for that. Make sure you get a ticket to see this movie while it's still in theaters, because in the future you're going to want to say you saw one of the biggest cinematic events in recent history.