Instant Influencers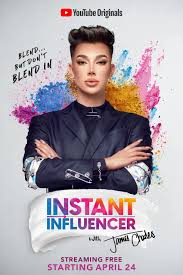 Instant Influencers is a Youtube show, and it is run by James Charles. The show portrays how good the contestants' makeup skills are, and it is almost like a makeup skills war. In each episode, a makeup challenge is given to the group of contestants, and each time, someone gets sent home. The contestants have a certain amount of time to get done with the challenge.
The judges for Instant Influencers are Norvina Claudia, James Charles, and Trixy Mattel. They are judging six contestants in the current season. These contestants consist of Benny Cerra, Ashley Strong, Kalin Chase, Christian Perez, Britany Renteria, and Gabriel Garcia.
Additionally, special guests appear on the show all the time. Trixy Mattel the drag queen, Nikita Dragun, Bretman Rock, Nyma Tang, and Louie Castro have all made appearances on the show.
Whoever wins gets $50,oo0 dollars and a collab video with James Charles.