COVID-19 Effects On The Holidays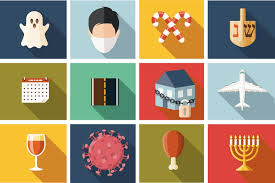 In the world today, we wake up, put our masks on, sanitize daily, and socially distance simply to keep ourselves safe. Because of COVID-19, we live our lives differently. Some of us have gone months without hugging some of our closest family members. For some people, life may not have changed much. Maybe now you just put a mask on everywhere you go. How do you normally spend the holidays? Are you used to wearing a mask around your aunts and uncles? This year the holidays look different for everyone.
Sophomore, Clayton Creech said, "Usually on Christmas Eve, my family opens up Christmas presents and around Christmas, we have a family Christmas party, but I'm pretty confident that we will not be having the party this year."
Due to COVID, we can not gather in large groups as normal, and we can not put our elders at risk. Although, how much the holidays are different this year may even better for some students.
Sophomore Kenady Ivy said, "Christmas won't be different for me this year, other than we'll be celebrating in our new lake house." Kenady is excited about spending Christmas in a new place.
Mrs. Melick, the media staff teacher at WHS,  said "Usually on Christmas, I look forward to spending Christmas Eve with everyone and making food, but this year, I don't see it being the same. My family is very serious about covid, so I do not see my family doing anything for the holidays this year."
The holidays may be looking different this year, but everyone should try to keep their spirits up. Remember to remain kind through the frustration and love one another. Have an amazing holiday!