Scarborough Renissance Festival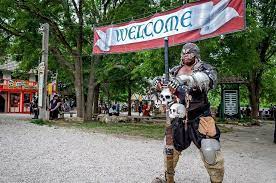 Scarborough renaissance festival is a renaissance festival here in Waxahachie, on FM 66 heading towards Maypearl.
It runs from April 10 to May 31.
It has been open since the 80s and has lots of activities. There are 36 stages and about 100 shows, ranging from belly dancers to a joust. There are acrobats, a guy that plays with whips, and plenty more. There are also activities for kids since it is a family fair. There are elephant and camel rides and a place with mermaids, unicorns, and face painting.
There are 35 acres inside the park, and there are definitely enough activities to keep attendees busy the whole day. There plenty of vendors to buy various garb, which ranges from a renaissance costume, bows and arrows, swords, and much more.
There is a show in the morning right before the gate opens where the cast king Henry VII, Queen Cathrine, and Queen Margot all come out on top of the castle and welcome you into the park. Then at 10 a.m., the cannon blows, and the gates open. The final show is at 7 p.m. where the cast is on top of the castle, and they sing and blow the cannon again. 
 Scarborough fair is a lot of fun! Everyone should consider going.