Nope directed by Jordan Peele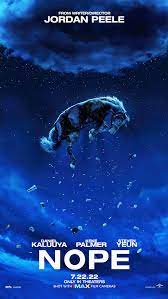 Nope is a movie directed by Jordan Peele. This movie was released in theaters on July 22, 2022, and is going to be streaming on the streaming service Peacock, but be warned this movie is rated R.
This movie is expected to be another great movie with a deep meaning, as in previous movies of Peele's such as the US and Get Out.  Nope is a movie about the dangers of humans attempting to tame nature for profit, especially when it comes to using wild animals in Hollywood.
I believe this movie is one of his best yet. It has really good character development which is always a good start to a movie. The plot itself is on another level but the message it sends is so good and it made me start thinking about what Hollywood is willing to do to get a good movie.
It seems to be doing good according to rotten-tomatoes with an 87%approval rating and reviews with mostly good things to say about it. You should definitely go and give it a watch and see if it lives up to the ratings.