Daisy Jones & The Six: A must read and a must see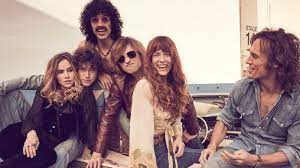 Daisy Jones & The Six was written by Taylor Jenkins Reid and was released in 2019. Following the popularity of the book, a TV series was created by Scott Neustadter and Michael H. Weber and just aired this year.
The book portrays the life of a band in the late 60s through the mid-70s. This is a story of substance abuse, addiction, hope, love and desire.
The show and book are both set up like an interview, the interviewer is revealed at the end of the story and it adds to the creativity that Reid put into the narrative. The story goes back and forth between the characters now compared to when they were the top band in the world. It's heartbreaking and unforgettable.
I personally will always recommend a great book over a show any day. Even if reading isn't your thing, Daisy Jones & The Six is a great book to start with. It draws you in; the romance and overall relationships are intoxicating. The book and show both had their little differences and being able to compare the show to the book afterwards was the most rewarding feeling. There are so many things I could say about the storyline and the ending.
I don't want to spoil, but the relationship between Daisy and Billy will have you on the edge of your seat. You can read the book or watch the show on Amazon Prime and make your own opinions. The fictional band wanted to change the world, but this book changed mine.