Federal employees remove the mask mandate on public travel
Ending a practice of over two years, airlines are now stating that masks are no longer required on flights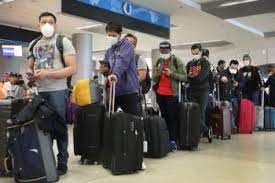 Alongside the rising cost of travel, understaffed airlines and establishments, and the overall restrictions on traveling from COVID-19, the mask mandate presented a great controversy in regard to travel.  However, last Monday Florida federal judge Kathryn Kimball Mizelle ended the mask mandate on public transportation, making it feel as though masks never existed in travel. This removal of the rule and enforcement is also applicable to subways, rideshare apps, and even trains. 
Despite the CDC stating that they would extend the mandate until May 3, other states are jumping on the bandwagon and removing masks for travel. The Biden administration formally stated that they would appeal this ruling. For now or until the ruling is appealed, the TSA will no longer require masks in order to fly.   
Airlines have recently released statements in regards to this. Many of the biggest airlines in the country say they will not enforce masks, but may require them in countries or cities that still have mask laws. On recent travels to Philadelphia, Pennsylvania, a city that required masks, I noticed that Southwest Airlines did not enforce the wearing of a mask.
It appeared as though many individuals had already heard about the now optional choice of wearing a mask because the majority of the people were not wearing a face covering. Southwest Airlines, whether in Dallas Love Feild or in the Philadelphia International Airport, did not bring up the new lack of regulations in regards to mask mandates. 
Airlines have been enforcing masks, even before it was a requirement at the start of the pandemic, however, due to these new changes, this is now viewed as unlawful. Mask have been a heated debate throughout the duration of their enforcement, often resulting in altercations and people being banned from travel. 
It is uncertain whether or not the ruling may stand, but the CDC believes that masks still may be needed as a whole. The risk of getting COVID while flying is very slim, however, masks may have been a factor that contributed to this. Because of this medically vulnerable peoples still have the option to wear masks because it will protect them alone. 
As someone who has been vaccinated the need to wear a mask does not feel entirely necessary after all this time, although I was never truly opposed to wearing a mask on flights because not all people were vaccinated. The circumstance of all individuals' health is not always known, therefore it is convenient that wearing a mask is at each person's own discretion.