Abbott, O'Rourke split on abortion, gun control and immigration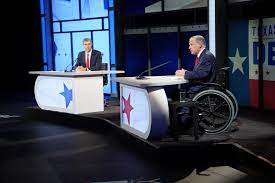 Texas Gov. Republican Greg Abbott and Democratic opposer Beto O'Rourke faced off in a debate on Friday night. Candidates stated their policy positions on controversial issues such as gun control, immigration, crime, and abortion.
Polls conducted by Nexstar Media show Beto trailing Abbott by 8%.
Over the summer, polls have reflected the tension of the race after the massacre in Uvalde and the overturn of Roe v. Wade. Therefore candidates did not hold back when able to bring up each other's shortcomings, clamoring to land a punch.
"Gov. Abbott's grid failure is part of a pattern over these last eight years. Warned about, for example, school violence and gun violence specifically against children does nothing," O'Rourke said. "Warned about problems within child protective services, our foster care program does nothing, and it gets worse. Warned before February 2021 that we had problems in the grid, he did nothing."
However, Gov. Abbott was able to navigate through the pressing questions like the failure of the power grid in February. Abbott claimed, " the grid is more resilient and reliable than it's ever been". The Gov. then retaliated to the attack at hand by pointing out O'Rourke's inconsistent stances.
"He's flip-flopped on the border issue. He's flip-flopped on the energy issue, such as energy jobs and the Green New Deal, "Abbott said. "He's flip-flopped on defunding the police. Whether it's one issue or another, he keeps changing positions."
As an avid supporter of bans on assault rifles, O'Rourke was quick to criticize Abbott's gun control policy. Supporters of the Democratic candidate have been calling for raising the minimum age to buy a gun, adopting red flag laws, and requiring background checks.
"It's been 18 weeks since their kids have been killed, and not a thing has changed in this state to make it any less likely that any other child will meet the same fate," O'Rourke said. "All we need is action, and the only person standing in our way is the governor of the state of Texas."
Abbott claimed that said laws to ban assault styles weapons and to raise the age to own a gun would be "unconstitutional".
"No parent should lose a child, we want to make sure we do everything we can to make sure that doesn't happen again," Abbott said. "We want to end school shootings. But we cannot do that by making false promises."
Abbott's immigration stances came into question. The Gov. had recently drawn media attention by busing immigrants to Democrat-run cities like Chicago, Washington D.C., and New York City.
"There will be other cities in the future that also will be on the receiving end of the migrants," Abbott said. "We will continue to have to move migrants."
O'Rourke criticized Abbott's treatment of migrants in Texas, referencing the 2019 racially-motivated shooting in El Paso
"I'll tell you this hateful rhetoric, this treating human beings as political pawns, talking about 'invasions,'" O'Rourke said "That's how people get killed at the Walmart."
The two also differed in opinion on abortion rights. A touchy subject since Abbott signed a law that banned abortions in Texas, even in cases of rape and incest.
"This election is about reproductive freedom. If you care about this, you need to turn out and vote," O'Rourke said. "I will fight to make sure that every woman in Texas can make her own decision about her own body, her own future, and her own health care."
Abbott was then questioned on the availability of contraceptives and alternatives to abortion.
"It's incumbent upon the state of Texas to make sure that it is readily available," Abbott said. "For those who are victims of sexual assault or survivors of sexual assault, the state of Texas pays for that, whether it be at a hospital, at a clinic, or someone that gets a prescription because of it."
While campaigning, Abbott has focused on immigration policy, law enforcement funding, property taxes, and border security. O'Rourke: abortion, gun control, education, and the power grid. Both candidates stated their campaign focuses and stances in their closing statements as a call to Texans to vote.
"Look, I don't think Greg Abbott wakes up wanting to see children shot in their schools or for the grid to fail, but it's clear that he's incapable or unwilling to make the changes necessary to prioritize the lives of our fellow Texans," O'Rourke said. "That's why it's on all of us to make a change at the ballot box."

In his final statement, Abbott said. "I'm running for reelection to keep Texas No. 1 — to cut your property taxes, to secure the border, to keep dangerous criminals behind bars, and to keep deadly fentanyl off our streets."