The Safe T-Act finally making Criminal Justice fair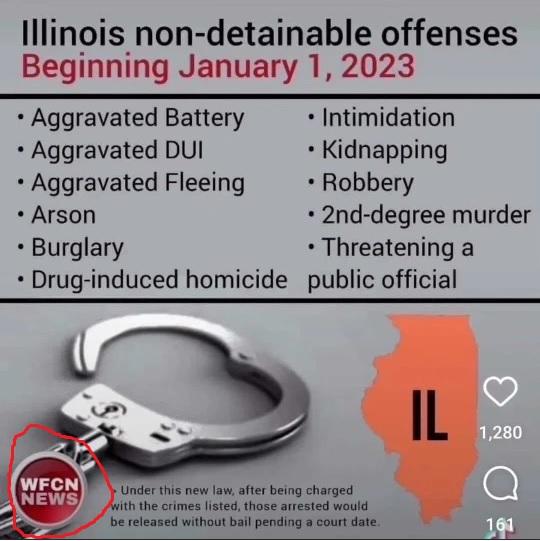 In Chicago, Illinois, there is an act called the Safe T-Act.
The Safe-T Act was signed into law in 2021 by Governor JB Pritzker, featuring sweeping criminal justice reform, which proponents of the law say will help end systemic racism in the criminal justice system. As stated in the act, beginning Jan. 1, 2023, cash bail will be abolished in Illinois.
Lots of people were making a big deal out of it in the beginning, claiming it to be something it wasn't; which they called "The Purge Law". Honestly, it's not what it seems. The safe T-Act was passed to prohibit people with less than four months on their sentence from being imprisoned and allows them to be diverted to electronic monitoring or another DOC facility or program.
In this wild generation, a lot of people are getting arrested for some of the smallest crimes or being falsely accused of crimes. Yes, falsely accused, but in Chicago, they're trying to make things fair for those who are victims of phony accusations.
Starting New Year of 2023, people who commit minor "crimes" or cannot be proven of doing the crime will be released from sitting in jail until proven guilty. 
The law also creates new requirements in the event police execute no-knock warrants, including that: (1) each participating member is assigned a body-worn camera and is following policies and procedures in said video, (2) steps are taken in planning the search to ensure accuracy and plan for children or other vulnerable people on-site, and (3) if an officer becomes aware the search warrant was executed at an address, unit, or apartment different from the location listed on the search warrant, that member will immediately notify a supervisor who will ensure an internal investigation ensues. 
These requirements are based on Chicago Police Department reforms.
Most people think the passing of this act is a good thing, while on the other hand, Will County's Republican Sheriff candidate Jim Reilly thinks otherwise.
 "The Safe-T Act is nothing more than reckless legislation that will empower criminals and undermine the efforts of law enforcement who put themselves at risk to keep our communities safe," Reilly declared. 
The whole situation is crazy, isn't it? I know, but if the court system and police officers stay cautious and make sure to follow all precautions I think it'll be just fine.