What Happened to the Mavericks?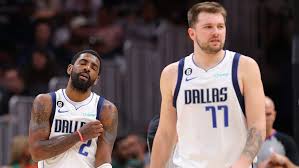 This season was meant to be a big step forward for the Mavs. After coming off a Western Conference Finals appearance the Mavericks had big aspirations for this season. However, this season has been nothing but disappointment. After being expected to win anywhere from 45-50 wins, they will be lucky to get 40 wins. At this point, April 4, 2023, the Mavericks are 37-42 with 4 games remaining on their schedule. 
Before the Kyrie Irving trade the Mavericks had a record of 29-26. After the trade they are 9-16. What is the problem? Statistically they're a very similar team. Actually they're a better team. Before the trade they ranked they ranked 8th in offensive rating and 24th in defensive rating. After the trade they rank 7th in offensive rating and 23rd in defensive rating. The difference is they rank 15th in net rating before the trade and after the rank 18th. So have the Mavericks gotten worse or are the other teams just getting better? The answer is both.
The eye test says that the Mavs have been much worse defensively and that makes sense. In the Kyrie trade they traded away Spencer Dinwiddie and Dorian Finney-Smith. Now defensively Dinwiddie and Kyrie aren't much different. Kyrie is actually 2 points better. But losing Dorian hurt the Mavs. Easily their best perimeter defender, losing him slots in Josh Green, Reggie Bullock, and Justin Holiday to fill a role they haven't done well. With Dorian being 6'7″ and 220 lbs. you could throw him at the wings of the west like Lebron, Durant, and Kawhi. Now you throw in Josh Green, who is 6'5″ and 200lbs. and you lose a lot of size on the wing. 
Another problem with their defense is that they have no true rim protector. One thing most NBA champions have in common is they have a true rim protector. Three of the last four championship winners had one to two guys who can run protect. The Mavericks don't have a player that can do that. The only guy who can decently defend the rim is 35-year-old Javele Mcgee who doesn't even play 10 minutes a game. The Mavs play three big men consistently. Christian Wood, Dwight Powell, and Maxi Kleber. None of whom can rim protect.
So what's their problem? It's definitely not their offense. If the Mavs want to be serious contenders in the west, they'll need to fix their defensive problems. If they are willing to spend money this offseason, they could go out and try to sign Jerami Grant or Jakob Poeltl. Cheaper options could be Grant Williams or Bruce Brown. Those are just a few free agent options, but they can still trade. Mark Cuban and Nico Harrison have their work cut out for them, but I look forward to what they will do. Hopefully they don't fumble the bag with Luka.