Waxahachie Band Students are among the best in Texas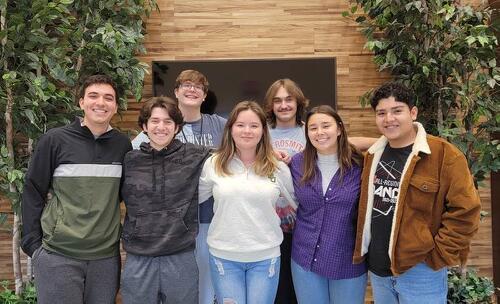 To begin the TMEA All-State process, over 70,000 band students across the state of Texas all begin preparing a number of pieces during the fall season. These students then begin the process of auditioning within their region and their area, until only the best players advance to the state level.
After multiple auditions and months of hard work, sophomore Eric Shuetz, junior Kade Mckie, junior Owen Bartosh, junior Joshua Martin , senior Leah Gonzalez and senior Clara Moriarty of the Waxahachie band program finally achieved that goal of making it to the All-State level.
Becoming an All-State player is a high honor for all band kids in the state, but getting there takes endless work, talent, and most importantly, perseverance. These students put in many hours practicing and perfecting the pieces that they play for their tryout.
Bartosh was named an All-State musician for his third year in a row. He plays the french horn, and during his audition process, Bartosh placed 1st in both the region and area divisions, and 13th overall in the state.
"I practiced almost every day for multiple hours each day. I worked on fundamentals, musicality, and becoming a better player overall. I would sing the audition music in my spare time," Bartosh said. "I devoted a lot of thought to the audition."
Schuetz also plays the french horn and became an All-Stater for the first time this year. Putting his work into the All-State route gave Schuetz a chance to do more of what he enjoys.
"I wanted to be an All-Stater because it gave me more of an opportunity to play my french horn," Schuetz said. "The competition was also challenging, which made it fun to work up to the top."
The road to All-State is not easy, but these six students, like many others in the state, wanted to achieve All-State success. Now, not only are these students gained the notability of becoming All-state musicians, but they have also learned valuable lessons, and had fun experiences along the way.