The Dallas Cowboys upcoming season with starting quarterback Dak Prescott being injured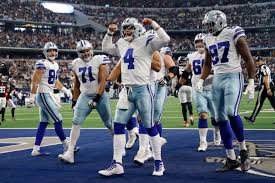 The Dallas Cowboys 2022-23 season is just getting started and has already had a major bump in their path.
Their starting quarterback Dak Prescott suffered a hand injury during their first game of the season. He now has to undergo surgery and will be out for multiple weeks. The cowboys need their quarterback, without him, the team will definitely struggle this upcoming season.
The team has had the go through this before when he suffered an ankle injury during the 2020-21 season. He was out for the remainder of that year, and now the cowboys have to fight without him once again. The cowboys had a losing season that year of six and ten, that's decent knowing that they didn't have their main QB. This year is still fifty-fifty though, being that the team is 1-1 right now.
The team's backup quarterback as of right now is Cooper Rush. Rush was drafted in 2017 and has been the backup QB since. He went to Central Michigan during his college career and was the starting QB there. Rush is not the best backup in the league, but he can definitely help the team to a winning season.