Worshipping the Lorde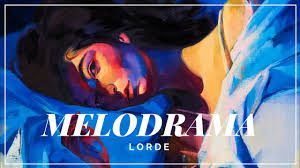 You may be wondering, "is that a typo I see?" But, the answer is no. There is a pretty good chance you have heard of her. I mean, did you listen to the radio in 2013? Well anyways, Lorde, our New Zealand Queen, is most definitely back on the radar. Her sophomore album, Melodrama, came out on June, 16 of this past summer, and let me tell you, it is amazing. Every single adolescent girl/young woman should be listening to her. I guess boys could. (Even though this album is about being independent, knowing your worth, not depending on men…) Well, everyone should listen to her because her lyrics are amazing, and her music is amazing, and well, you get the gist, she is amazing.
I vividly remember the first time I heard one of her songs from her first EP. It's called "The Love Club", and I still listen to it all of the time. When I actually dissect the lyrics, I get a better understanding of it each time. That is what I love about her music. You get a different meaning each time you listen to her songs, and it depends on what stage of life you are in, or where you are emotionally. And I guess that could be any artist. But for me, it's Lorde.
I just want to thank my friends for showing me to her. And, I want to point out to whoever reads this that I do not actually worship her.