The Universal Language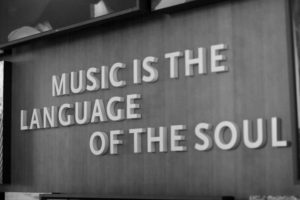 Last week, students who made the All-Region band participated in the two day clinic in Duncanville. Students who auditioned and received a band placement back in December were able to work with a band made up of members of bands all over a certain region. Students were given the opportunity to learn music and work with qualified conductors, and continue to better themselves as musicians.
This intense clinic consisted of about eight and a half hours of rehearsal time spanning Thursday night and a majority of Friday, concluding with a concert showcasing each band Friday night. Students worked in a professional setting, making music a priority and taking the opportunity to grow musically very seriously.
Senior Brandon Bechtel completed his final year in the region band. "All-Region has been such a great experience," said Bechtel. "I couldn't have asked for a better final year."
Going to region for the first time is a great experience. Freshman Ashtin Rostetter experienced his first year playing for the region band. "Region band all in all was a great experience, said Rostetter. "Meeting players that are closer with the instrument truly inspires you to try and be the best you can be."
Sophomore Elizabeth Etheredge also enjoyed her time at All-Region. "My experience in region band was quite fun and educating," said Etheredge. "I think it's beneficial to be able to play with and listen to great players that want to create music." Etheredge was also grateful for the social aspect of region. "You also get to make friends from different schools or visit old friends at another school which I thought was pretty neat," said Etheredge.