Ezekiel Elliott Returns From Suspension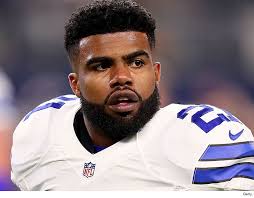 The Dallas Cowboys have struggled week in and week out, having a hard time keeping their playoff hopes afloat. Every game has been a battle without a stable running game, forcing the Cowboys to throw it more than anything. Dak has had seven interceptions since Zeke's suspension.
Playoffs are around the corner and although Dallas has not been playing all that well, they just might make it. After six long middling weeks, Ezekiel Elliott returned to the Cowboys facility on Monday at 12:18 in the afternoon. The Cowboys, 8-6, might have a chance with Elliott, who happens to be in the best shape of his life after weeks of training in Cabo, Mexico. Ezekiel is looking ripped and more than ready to steamroll straight through the Legion of Boom and the Philadelphia Eagles who have so far only lost two games this season.
Only time will tell if the Cowboys have enough to pull it off, but with Ezekiel Elliott's return, a playoff wildcard spot is very likely.