Hachie County Swine Show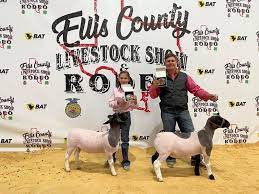 On March 31st, Waxahachie showed at the Ellis County Youth Expo with seventy pigs. Forty out of seventy pigs made sale from Waxahachie, and all of the kids worked very hard and showed their animals well. The Waxahachie FFA even had multiple students called back into the ring for junior and senior showmanship.
Even with all of Waxahachie's success, this year's show was very tense. All of the kids were going against each other, knowing the judge was only going to pick four or six hogs to qualify for the county sale. The qualifications for making sale this year were different as well, and the no bump-up rule had students even more stressed and determined to place while in the show ring.
Overall, the students have all worked hard and with amazing encouragement from their ag teachers, who have pushed their students to work harder for themselves in order to accomplish their dreams.
Outside of the Swine Show, there were ten projects shown at the Ellis County Youth Expo from the Waxahachie FFA at the Ag Mech Show. Hachie had six class winners, four division champions, Reserve Grand and Overall Grand Champion. In the Waxahachie Junior FFA, Jesse and Jayden Middleton scored a blue ribbon from the junior ag mech show!
Special Mention:
Rabbit Exhibitors
Jonathan Middleton won Senior Showmanship Champion
Anaya Borjas won Reserve Overall Grand Champion
Ashlyn Summers won this year's Best of the Show
Jonathan Middleton placed first and second in Junior Doe and Junior Buck
Jaylin Mcknight placed first in Junior Doe
Sheep Exhibitors
Jon Middleton was Grand Breed Champion
Jayden Middleton was Reserve Breed Champion
Swine Exhibitors
Lani Autrey waas Grand Breed Champion White OPB
Logan Abadie was Reserve Breed Champion White OPB
Colt Perry was Reserve Breed Champion White OPB